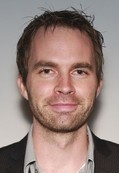 Films de Lover : Since I've never heard about you before this soundtrack, I guess my first question would be : Who are you Andrew Kaiser ?
Andrew Kaiser : I'm an emerging composer/songwriter who lives in Los Angeles, with very eclectic tastes in music and basically all art.
Films de Lover : According to IMDb, you did one feature film soundtrack and a lot of short films soundtracks before so how did you come to work on "Timer" ?
Andrew Kaiser : The director, Jac Schaeffer, was someone I knew by association from USC (University of Southern California). I heard she was starting to work on a feature so I wrote her an email to see if she would meet with me and she agreed. She had someone else in mind for the music already, but she allowed me to write a demo piece of music for her and she decided to go with me instead.
Films de Lover : How did you compose the main theme and all the other ones for "Timer" ? (By the way, I really liked how you added the clock into the main title of "Timer") What did you want the music you composed to convey to the audience ?
Andrew Kaiser : Writing the main theme was actually quite laborious. I knew that I wanted to include clock sounds, but I also knew only certain clock sounds would fit the composition I'd mapped out in my head So I started searching thrift shops and antique stores and tried out clocks. I cranked them, listened to their tick and hit them with a small metal rod (I imagine the shopkeepers thought I was quite odd). I did this for about a day and a half and then I started the same process with music boxes.
After I had all the eclectic instruments I started adapting my piano sketches to the new ensemble of music boxes and clocks. The other cues were easier, but I threw out a lot of music along the way. A lot of the music (including the main theme) was written before the film was shot, so after they edited the film I had several pieces of music that didn't fit anywhere (hence their inclusion on the CD).
My goal with all the cues was to make them memorable and to help give the film a sonic identity. I also tried to make each cue unique in some way.
Films de Lover : How did you work with Jac Schaeffer ? Did she have a specific idea of what she wanted or were you free to experiment with the melodies ?
Andrew Kaiser : Working with Jac was a distinct pleasure. She gave me a lot of freedom. She even encouraged me to suggest source music. Some of the songs I suggested stayed in the final cut of the film which made me very happy.
Films de Lover : The CD contains a lot of alternative titles or cues not present in final score. I feel that the CD is more of a "Timer"-world soundtrack than a "Timer"-film soundtrack which is a very good thing in my opinion. It's not really a question as you can see, just a general remark.
Andrew Kaiser : I really appreciate this comment, thank you very much. Creating a "TiMER"-world soundtrack was my intention, and I was concerned people would think the whole idea was odd.
Films de Lover : Even if "Timer" got a limited release, the soundtracks are available in CD and MP3 format through your own label. Why did you choose that way of selling the music ?
Andrew Kaiser : The CDs come numbered and packaged with their own "art" cards that I drew. All releases on my newly formed label Blue Soup Records will be released similarly (i.e. if you buy the physical CD you get something unique and collectible with it). Most people prefer to download these days, but I can't control the number of sales through any of the services that facilitate distribution to all the online music retailers. Sorry if this makes things a little confusing :)
Films de Lover : Did composing this soundtrack had a positive effect on your career ?
Andrew Kaiser : Composing the score for "TiMER" has had a positive impact on my career in that it gave me the opportunity to demonstrate how I like to score a film in an ideal setting: I really like being involved with a film while it's in pre-production so I can start creating independent of the final product.
Films de Lover : The last question is a traditional one on our website : if you had to pick one romantic film for an evening with your special one, which one would it be and why ?
My response may seem odd because the film itself is far from a romantic film, but "Castle of Cagliostro" the Hayao Miyazaki masterpiece would be my choice. My wife and I have always loved this film and we've watched it so many times that it evokes good memories of being together. There isn't much romance, but what romance there is is innocent and sweet.
Interview made by Frederic R.
for FilmsdeLover.com
The soundtrack for "Timer" can be bought for $10 on the Blue soup Records website.